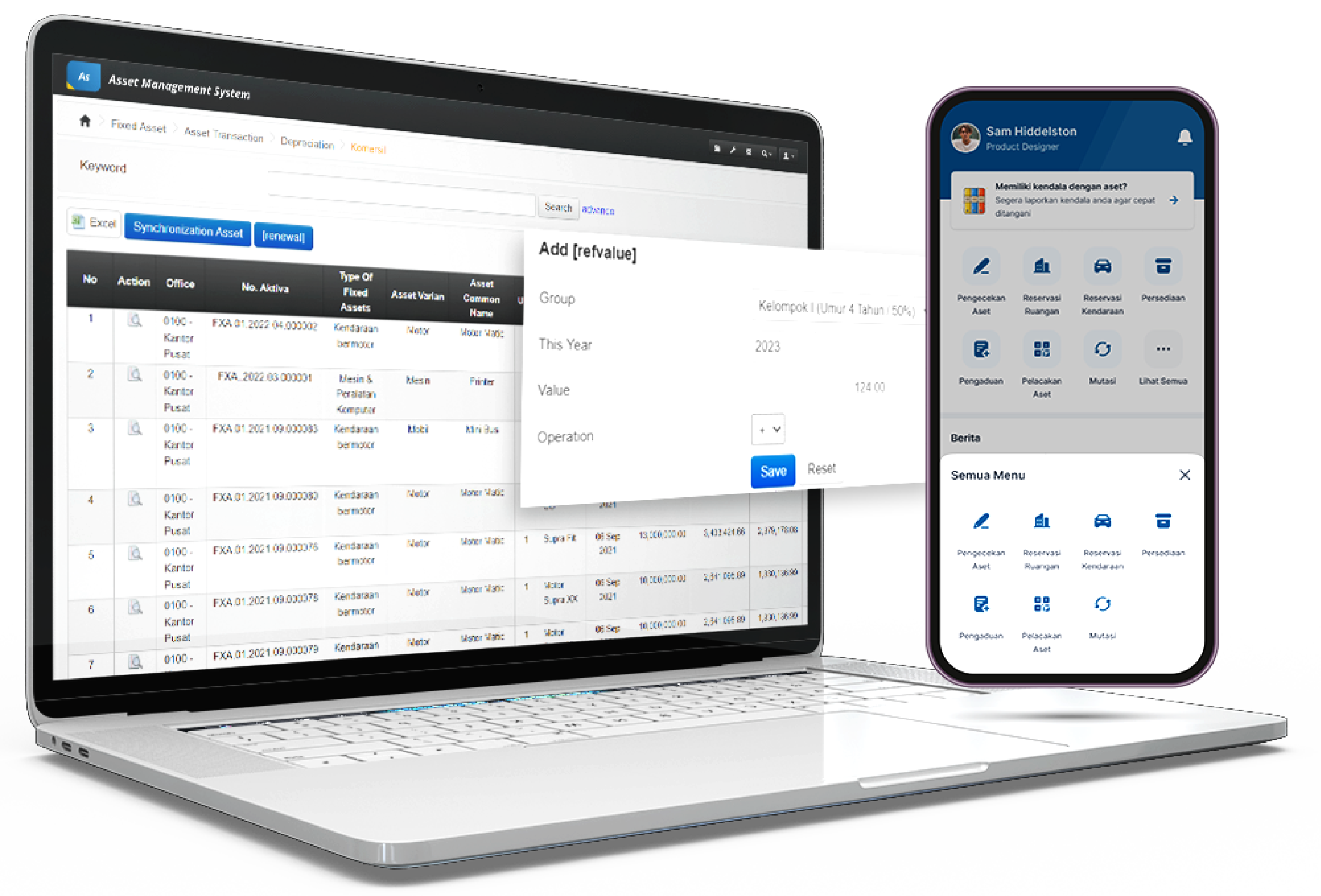 Asset Management Software
Company Asset Recording, Tracking and Maintenance Solutions
An information system designed to make it easier to manage company assets, location of goods, maintenance history, movement history, financing history, goods condition history, asset value along with value after depreciation and ease of reporting.
General Problems of Managing Company Asset Management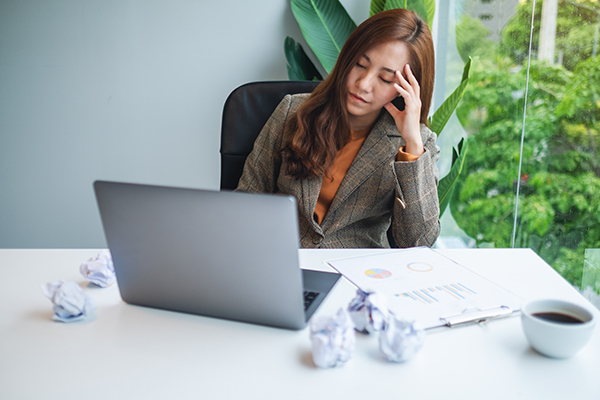 As a company's needs grow, it becomes harder for it to track and record the growing assets

Asset supply tender takes a long time because the tender procedure is quite many and in a manual way
It is difficult to achieve BEP when deprecated asset values are not calculated into the production costs causing loss
Difficulties in conducting an accountable audit process
Lack of system with IC standard (Inventory Card)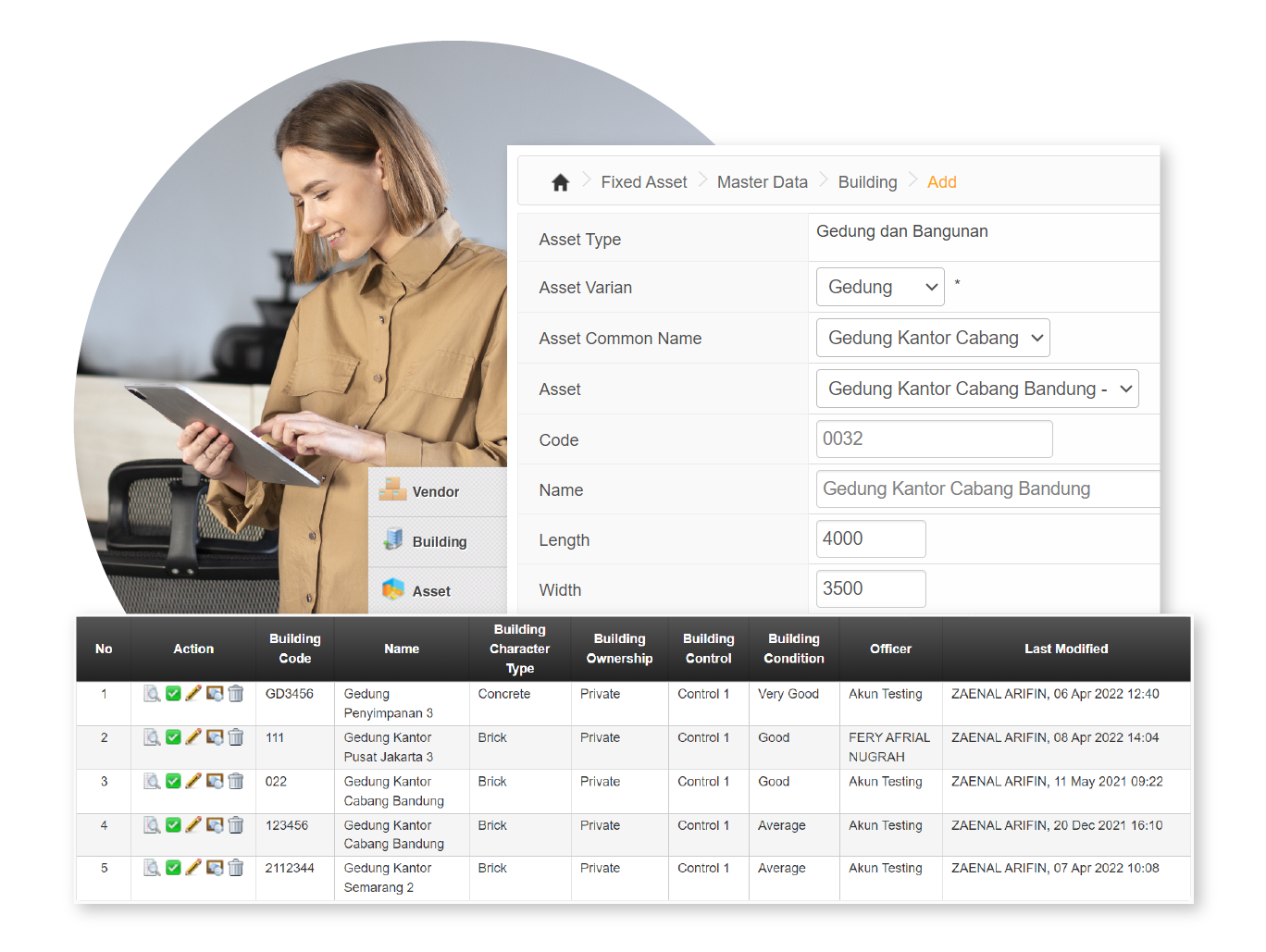 Asset Management Software Main Features
Collect company asset data easier.
Simplifies data collections on assets owned by the company. Data collection is grouped by name of asset, asset type, vendor, asset location, and department in charge of the asset.
Asset Codification
Officer Data
Asset Categorization Data
Registration Code Data
Asset Value Data
Barcode Data
Data Units
Data Work Area
Building, Floor and Room Data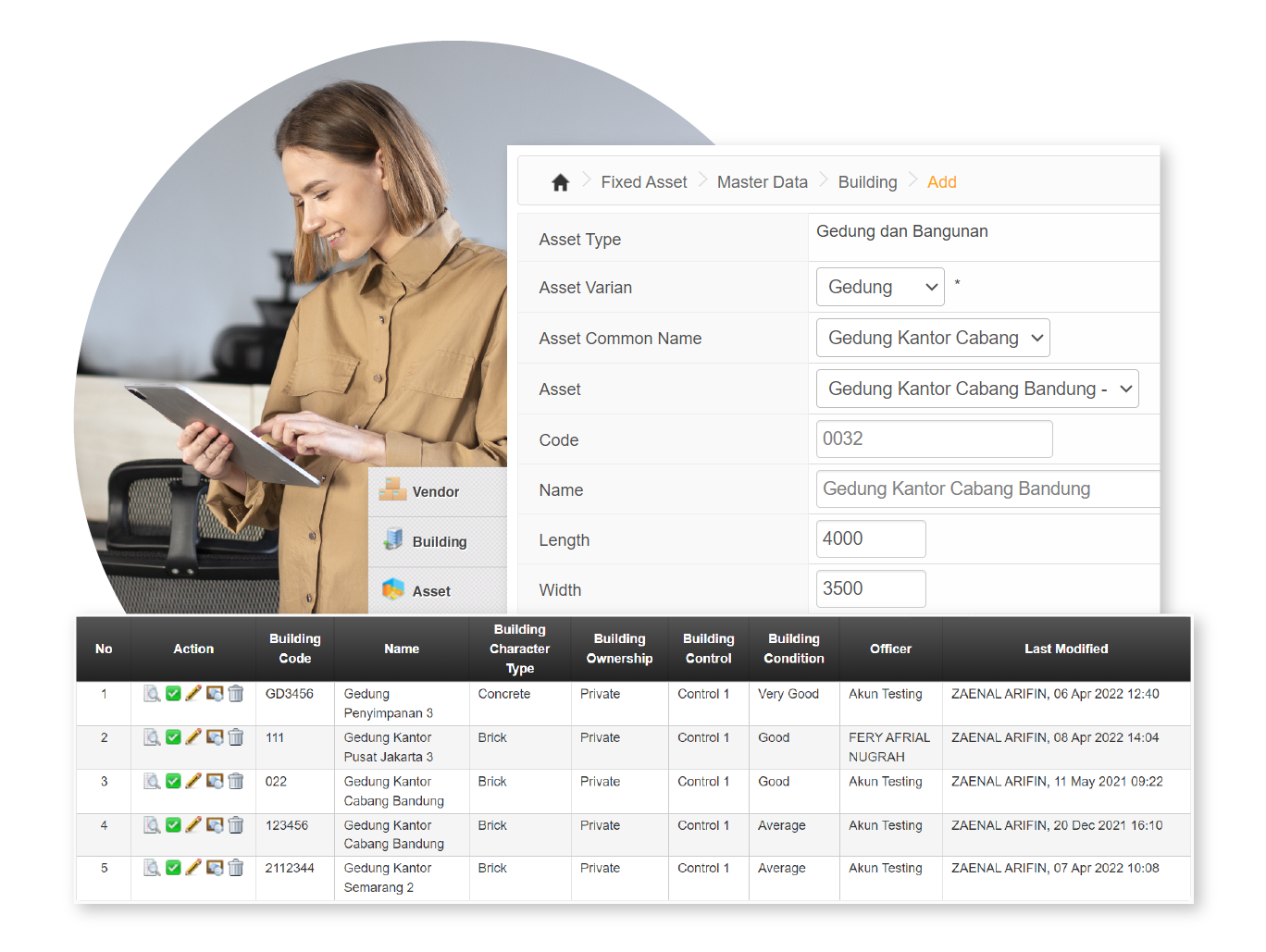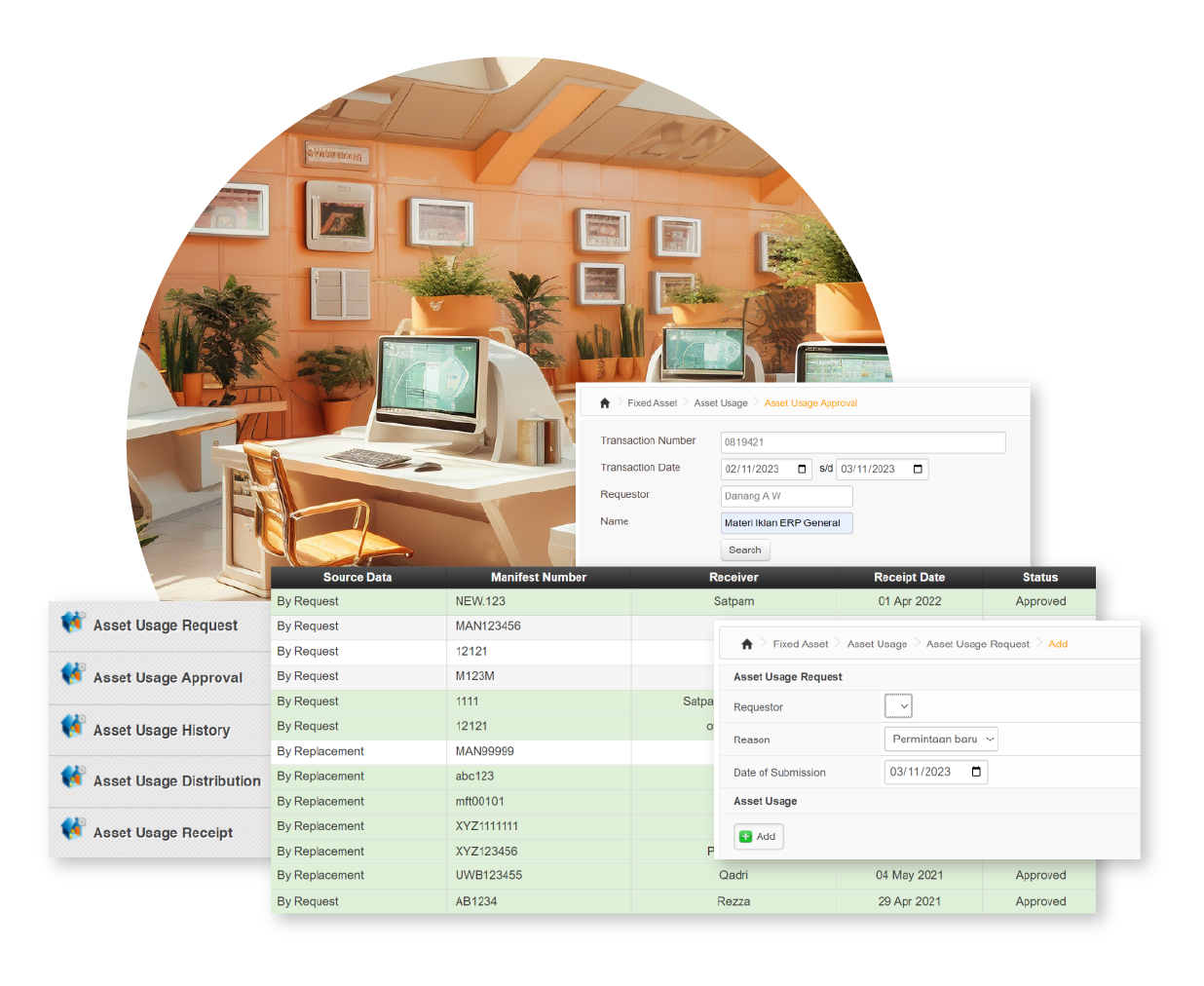 Help Optimize the Use of Company Assets.
Simplifies requests for asset use, approval for asset use and history of use.
Submission of asset requests
Approval of asset use
Asset application history
Distribution of assets
Asset receipt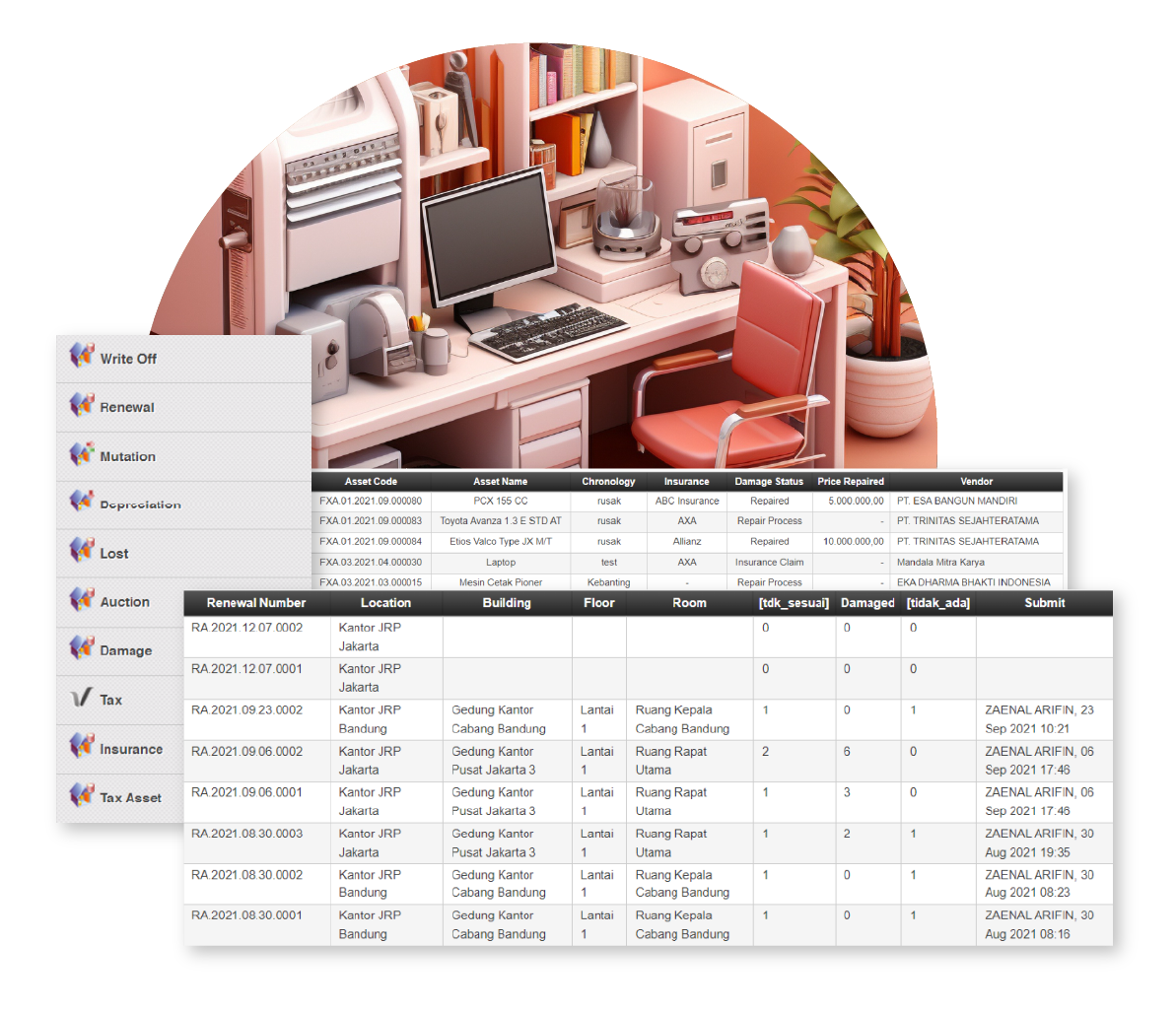 Company Asset Transaction Management.
Simplifies the management of transaction or asset status such as disposal, write off, revaluation, transfer, change location, depreciation and return.
Lost Assets
Asset Damage
Asset Movement
Asset Renewal
Asset Insurance
Asset Auction
Asset Financing
Asset Maintenance
Asset Destruction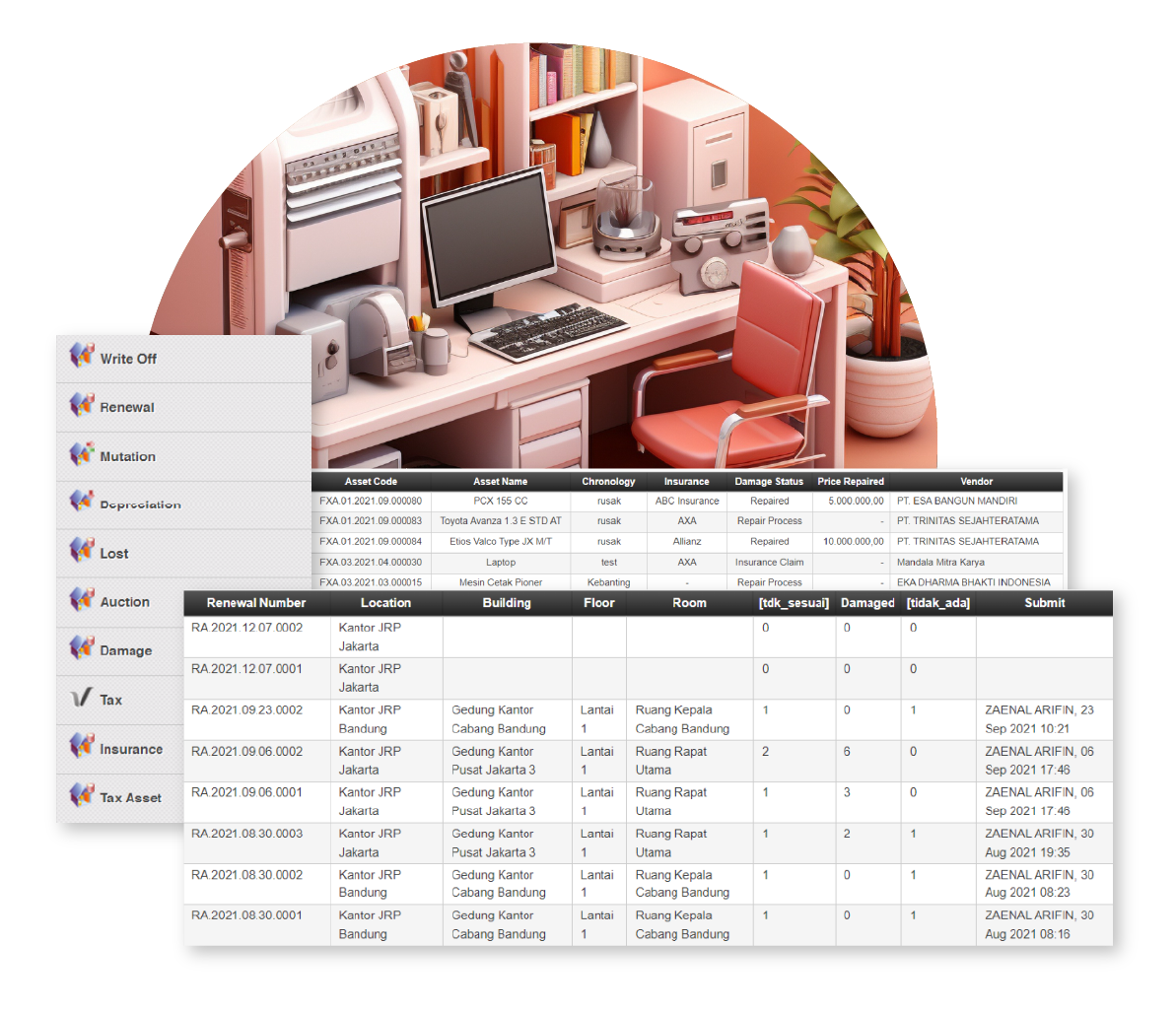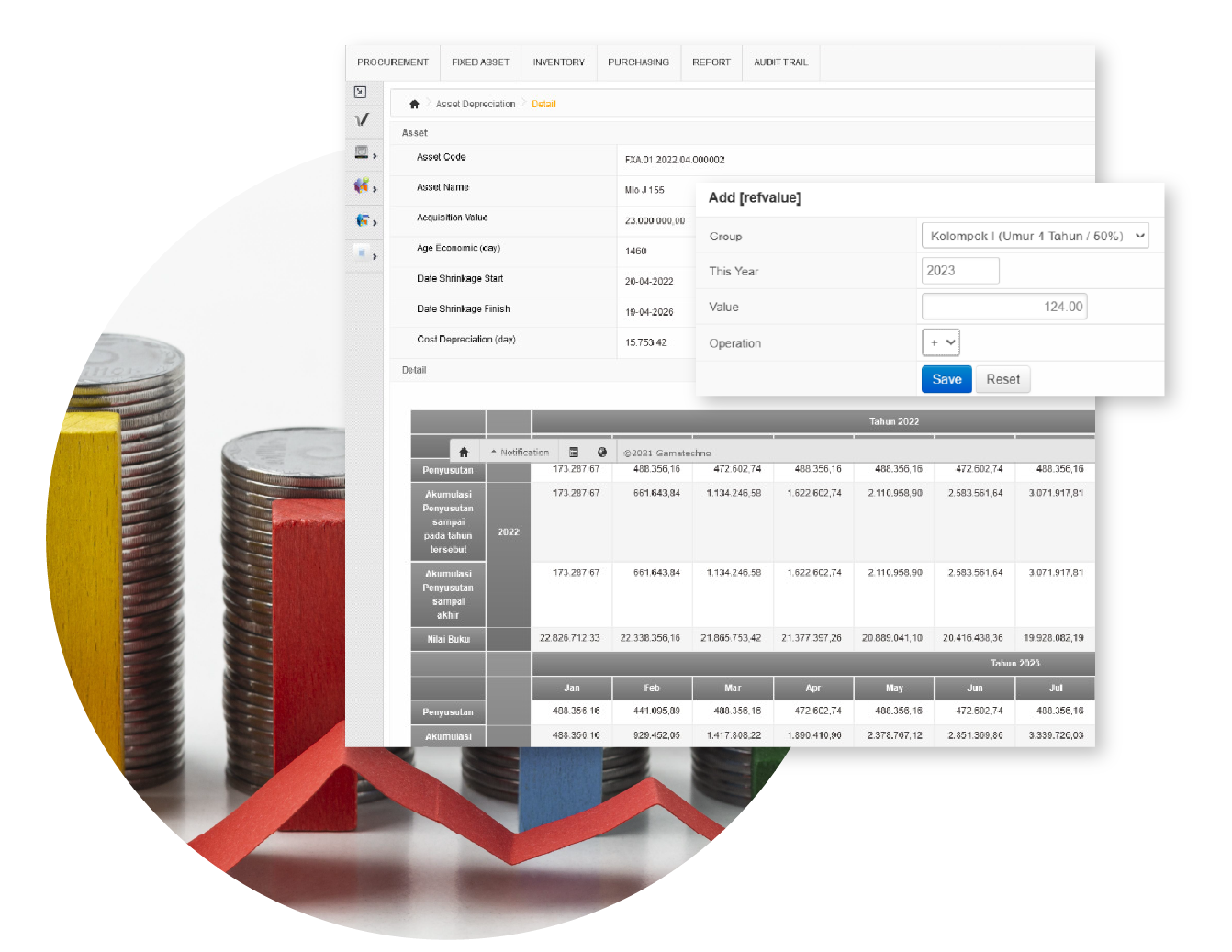 Calculate asset depreciation easier.
Simplifies the calculation of depreciated values. It can be used as a guideline to allocate budget in replacing old and expired assets in exchange for a new one.
Commercial depreciation report (straight line method)
Fiscal depreciation report (double decline method)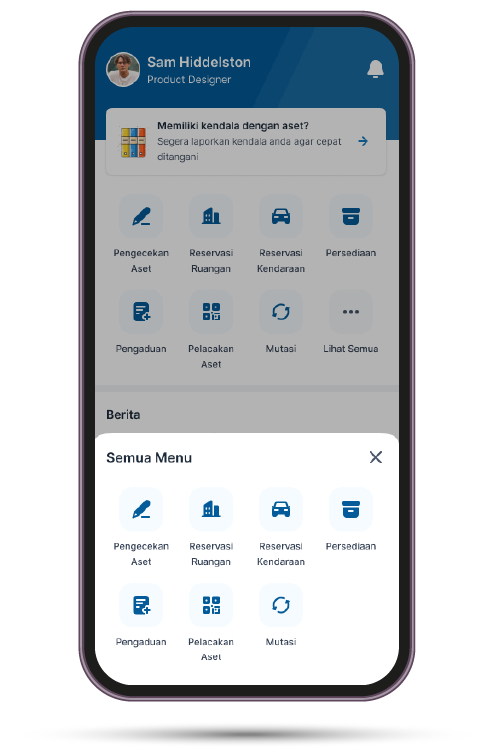 Easy Access From Anywhere with Mobile App Support.
Make it easy to access mobility anytime and anywhere using the asset management system.
Asset tracking is faster and more flexible
Easy asset mutation process
Asset transaction information dashboard
Renewal of company asset data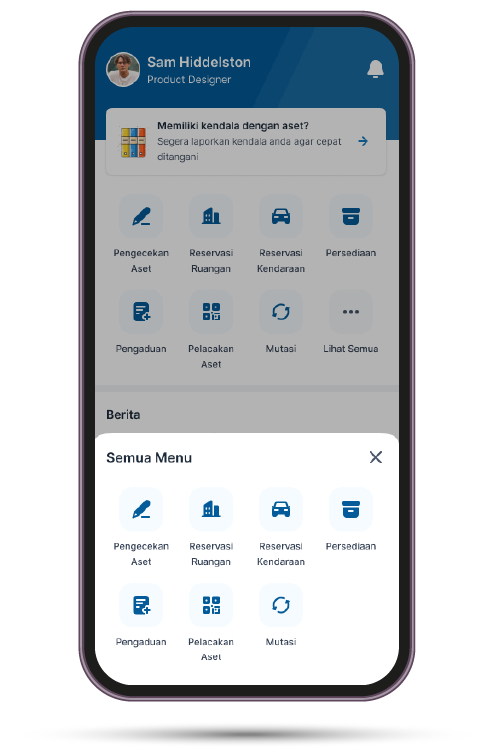 Benefit Software Manajemen Aset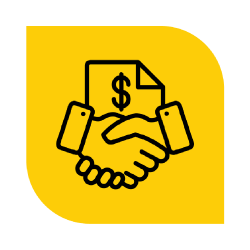 Ease of tracking asset locations, knowing the number and location of the company's fixed assets.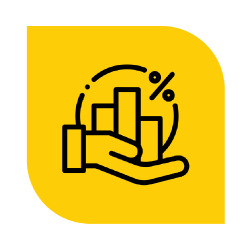 Ease of tracking asset status. Transfers, auctions, reductions and additions are recorded by the system.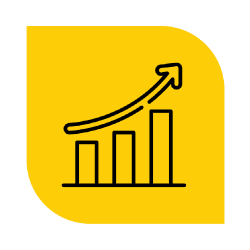 Ease of calculating asset depreciation. Equipped with asset depreciation features, simulation and journal posting to calculate asset depreciation.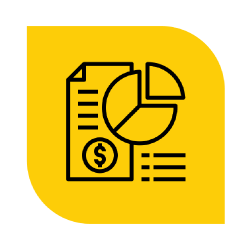 Automatic asset codification, integrated with barcode scanners and other applications to make asset data collection easier.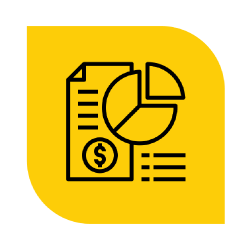 Makes it easier to report and audit assets owned by the company.
Integrated Asset Management Software in ERP Modules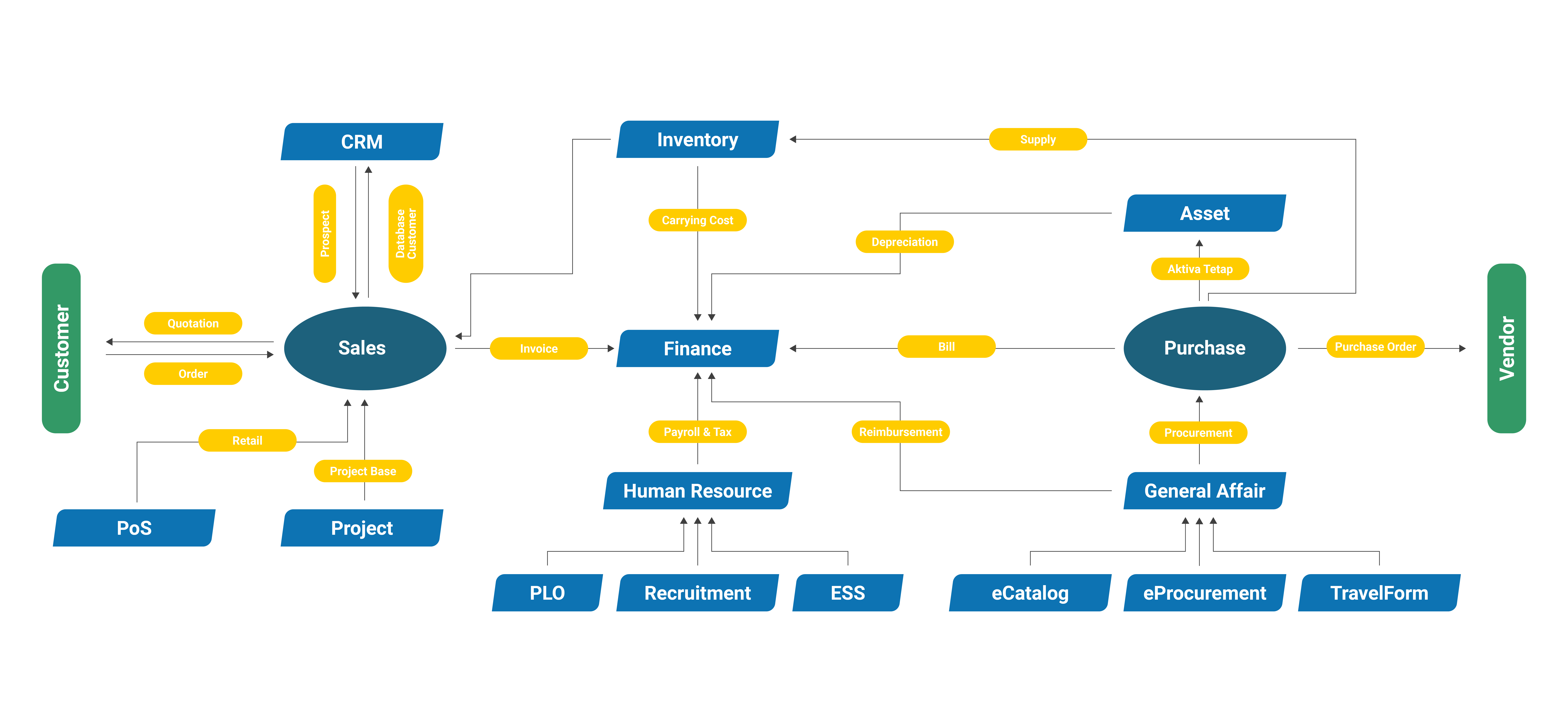 Consult Your Company's Needs Now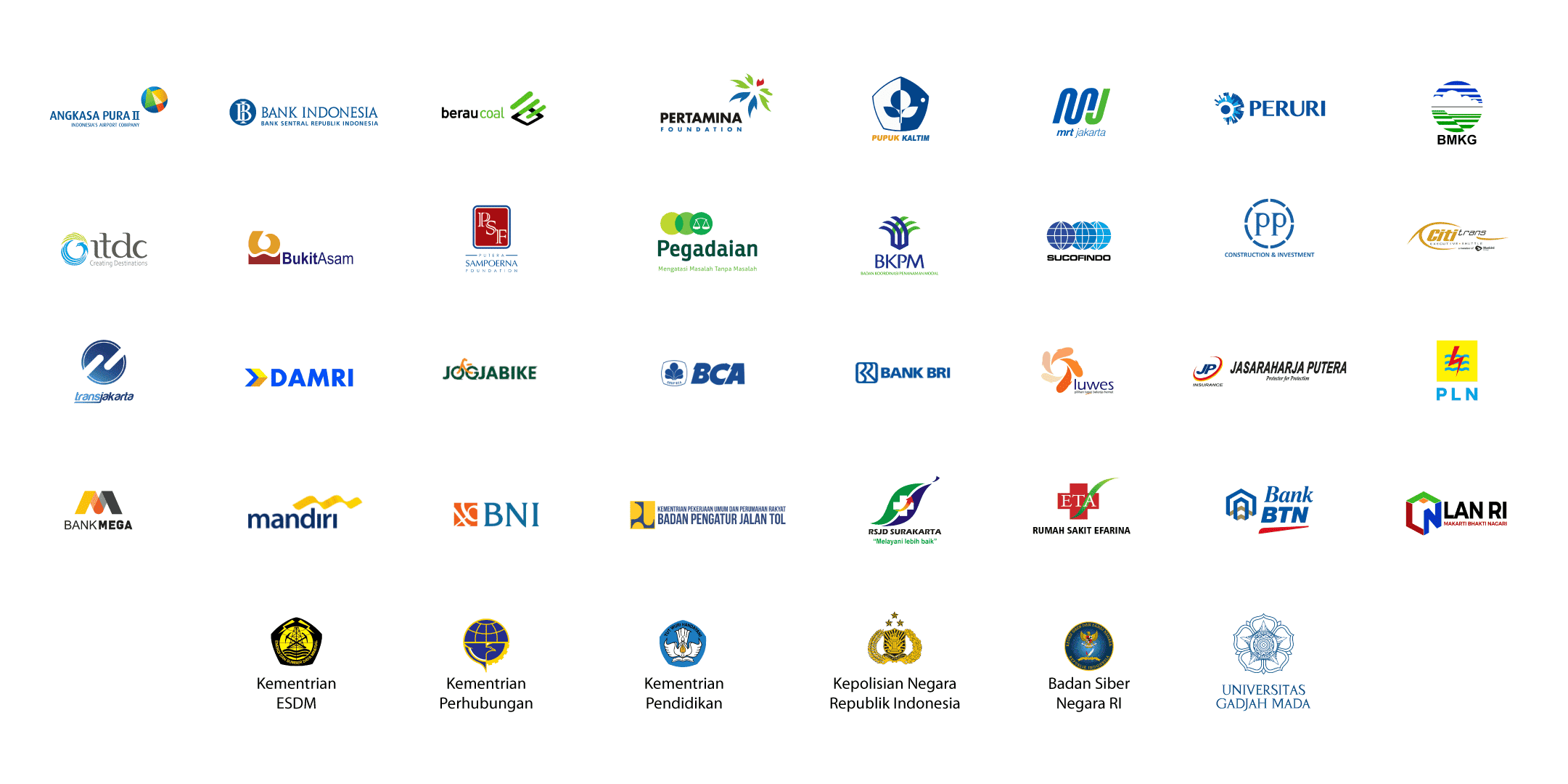 Client satisfaction who use products and services from Gamatechno Indonesia.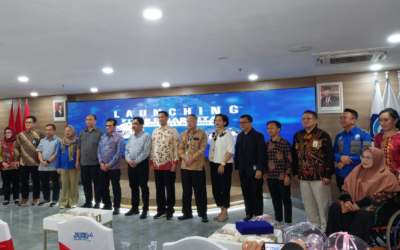 Upaya Aksi Keberpihakan dalam Semua Sektor  Menjalankan perannya sebagai lembaga Pemerintahan dalam bidang informasi dan komunikasi, Kementerian Kominfo melengkapi situs resmi kominfo.go.id dengan...